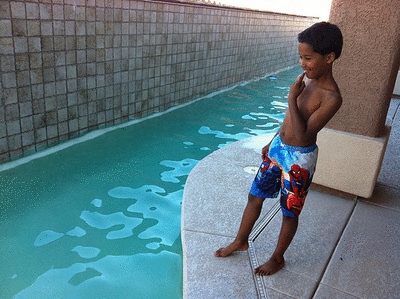 Watching my son play yesterday, inspired this post.
I try to meditate daily but, here's my confession: I tend to over think things. During meditation, I will often have a BRILLIANT idea and then, the voice inside my head, not the Big One (also available to me but often not as easy to access) but the little one. Some might say the little one is my ego or the devil or fear or… you get the idea. Whatever I choose to call it, that little voice is not out to have me do great things and being happy and in love is a great thing.
I admire how my kids are so, quick to forgive, easy to amuse and entertain, and especially how loving they are. I learn from the three teachers that call me mom, on a daily basis. When I saw my son contemplate his play, dip his foot in the pool and jump in, I was amazed. He realized that the water, though chilly at first, was going to yield some fun that would far outweigh his discomfort.
Think it, Test It, Jump In!
This is a process I hope to always set as an example with for my kids. As they grow up and out into the world, those little voices will get louder and it will be more work to access the Big One. I want them to look at mom and know that self love is, without a doubt, worth any price they may pay to get there.
Image by
teapotqueen
via Flickr
What will our children do in the morning
if they do not see us
fly?
~ Rumi ~
Selected Poems. Rumi (Penguin Classics)

Eat, Pray, Love: One Woman's Search for Everything Across Italy, India and Indonesia

Eat Pray Love
Social Media Tip:
I created the above animated GIF online for free at Picasion. You can upload your pictures or grab them from Flickr or Picasa Web, make avatars or funny animations and post it toyour blog, Facebook, etc. Oooo but Angel, gif's are so 1999… So what? It's my blog! Besides, my entire high school wardrobe is back in style. Gif's WILL make a come back 😉 AND if you happen to have a small biz and have the opportunity to advertise, you can very easily create gifs instead of flash (which is a wee bit more complicated 😉